Lil MACA Leading the way for Innovative Healthcare in WA
We are a proud long-standing partner of the Perth Children's Hospital Foundation, helping give WA's sick children the best chance of leading their happiest and healthiest lives.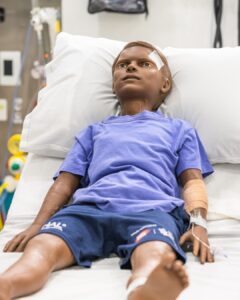 MACA entered a partnership with the Perth Children's Hospital Foundation in 2008. Since then, the company has contributed over $1.2 million to the Foundation which has helped provide world-class care through innovative technology and equipment at Perth Children's Hospital.
More recently, MACA has donated a medical human simulation patient known as 'Lil MACA' to PCHF. The simulator enables health professionals to practice skills, communication, leadership and team-work in a safe learning environment for emergency situations and clinical challenges.
Lil MACA is the world's most advanced school age mannequin available, and an Australian first.
It is a privilege to work with the Perth Children's Hospital Foundation and support their mission of transforming the healthcare of sick children and young people in WA.
Media enquiries contact communications@maca.net.au